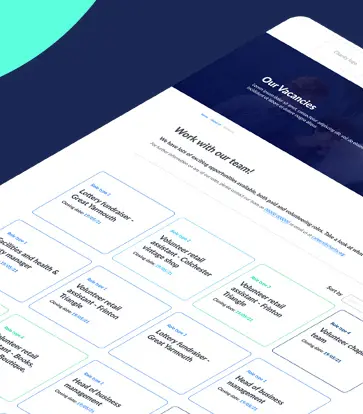 Recruiting volunteers and skilled professionals can be a difficult task for nonprofits. To assist with this challenge, we have developed a new digital careers module on hapi, which can enhance your online recruitment efforts.
This update includes a professionally designed listing widget to display your current vacancies on any page. Showcase all roles in one place or easily segment to set up bespoke listings per job type - For example, setting up a dedicated page for volunteer roles.
Our streamlined process allows you to configure new roles quickly and easily, with options to set application deadlines, publish dates and file uploads.
Our new career management portal is at the heart of the module, built into your hapi CMS to view your applications. From here, you can track application figures broken down by role, view uploaded files such as CVs, download applications as pdfs or send selected applications to an email address of your choice. 
Take a virtual tour:
Key features and benefits:
Fully functional careers module integrated into your hapi site – say goodbye to external plugins and platform costs
Manage all applications from one central location – download or send selected applications to an email of your choice
Complete control and customizability of your application forms, with the option to set a different form per job type
Add tags to your roles to allow users to filter listings to their desired sector or role type
Upload multiple documents to your roles to display key files such as job descriptions, person specifications and more in a stylish manner  
Approved and tested by a professional with 5+ years' experience working for a jobs board
---
Want to know more about what hapi can do for your charity?
Find out more here or get in touch with the team:
Call us on 01925 755960 or email hello@dreamscape.solutions